SMU Spotlight: Alumni Entrepreneurs – Cindy Leong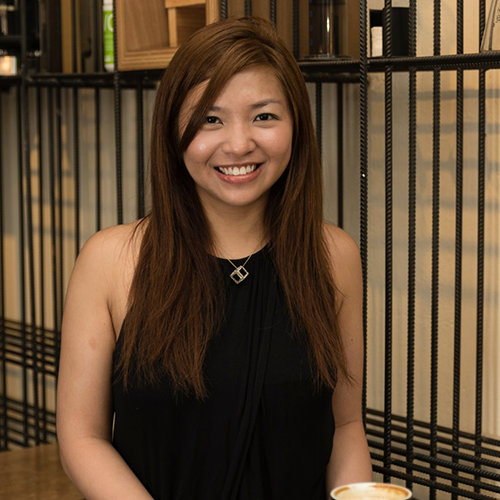 A helper at heart, Cindy Leong (BSocSc 2011) had been inspired to coach others in relationship management ever since she took her first Evolutionary Psychology class at SMU. She discovered her knack for identifying root problems in interpersonal relationships during her school days, with many of her friends coming to her for advice. Coupled with her flair for presentations (a skill picked up at SMU), Cindy went on to set up two businesses in coaching after graduation: Relationship Studio and Divine Connect.
Not forgetting the headstart provided by her alma mater, Cindy paid it forward by contributing to the SMU Imagine Better Companies campaign, in hopes of helping future students chart their own paths in business. Read on for Cindy's story of how she overcame the obstacles of being a young entrepreneur, to become the "Chief Relationship Officer" of two successful companies.
Hi Cindy! You graduated from SOSS Class of 2011. What was your fondest memory of your SMU days?
There were many! For example, juggling between various CCAs and different modules, jumping between seminar rooms and group study rooms, running to Cathay Cinema to catch a 12.30pm movie in between classes, reading up on last minute materials in order to participate in class… these memories formed my experience of SMU life. I was also frequently mistaken as another lady from the Business cohort, who had the same name as me, and also looked very much like me – I received emails addressed to her on quite a few occasions, but we had never met in person!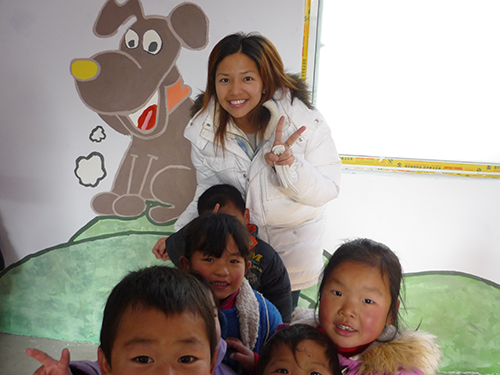 A photo of Cindy as an undergraduate, taken during her Overseas Community Service Project (OCSP) in China
Tell us about how you got started with Relationship Studio and Divine Connect!
I noticed that people often came to me to share their relationship issues. I had a keen interest in helping people solve relationship challenges, and I realised I had a gift in spotting where the root of the problem was.
I knew I wanted to pursue a career related to love and relationships, ever since I completed the Evolutionary Psychology module by Dr Norman Li. In Year 4, I actually wrote in to an established dating agency, mentioning that coaching was the next step to go. It was important for one to obtain self-awareness before finding a life partner. However, whoever vetted my resume at that time threw my idea out of the window, so I did not get a chance to interview with them.
This led me to think: Since no one was going to buy my idea, I would do something about it and test my hypothesis on my own, to see if it would work.
I knew that I could not pursue it right after graduation because I did not have any experience, so I went to work to gain some experience in the events industry. That was when I realised the importance of people skills as well! Many courses taught event management skills, but not people management skills, which were also essential in running an event successfully!
So 3 years later, I started Relationship Studio, which focused on corporate training, HR consultancy, executive coaching and couple coaching using the Enneagram framework (a model of the human psyche which is principally understood and taught as a typology of nine interconnected personality types). I went to the USA to get the knowledge I needed and adapted it to fit the Asian context. From then on, I used it to help people make sense of their professional and personal relationships.
Another 2 years later, I met the founder of another dating agency who believed in coaching and personal development. Together, we founded Divine Connect. I am now the Chief Relationship Coach at Divine Connect, where I trained a team of coaches to help the singles in their search for relationships.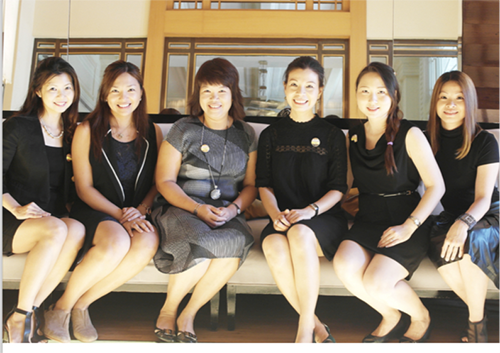 Cindy (2nd from left) with her group of coaches at Divine Connect
How has SMU's education helped you in setting up/running your own business?
Being in SMU taught me self-management (managing myself, my summer holidays, and how I wanted to complete my university education, as well as what I wanted to do with my time). And most importantly, I learnt about communicating with internal and external stakeholders. The communications skills I picked up helped me in dealing with external parties.
The module on Finishing Touch further taught me about networking. The presentations that we needed to deliver for every module taught me to carry myself well, and be confident in delivering my ideas. All these were useful skills in running my own business.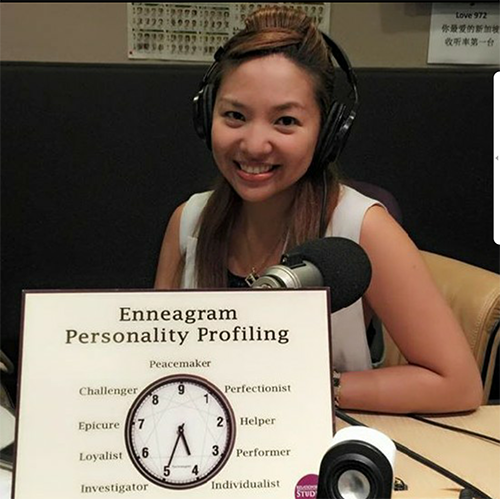 With her experience, knowledge, and presentation skills, Cindy is currently the resident Love Expert for radio station Class 95.
What was the most daunting part of starting up your own business in the coaching industry?
It was worrying about whether people would respect me as a coach at such a young age.
To overcome it, I told myself that there were two ways to start a business:
1. See what the world demands, and provide supply to that demand, or
2. Create something and let the world know why they should live this way and should have this.
What I am doing is the latter: I am telling the world that people should obtain coaching at some point in their lives, to be better and to achieve their fullest potential. Coaching provides clarity and alignment to our lives. It does not mean there was anything wrong with us. We all need a compass and a sounding board from time to time.
In the midst of doing so, I was initially concerned about whether people would listen to me, because of my young age. Who would listen to a 26 year old coach?
However, I was assured that what I had to offer was of value. My life experience, having divorced once at 24, gone through moments of ups and downs, and rebuilt myself – I believed this could add value to many. I was also reminded of my values – to impact lives and help people out of vicious cycles. I should not allow my age to stop me.
Initially, I deliberately dressed up to look older than my actual age. Whenever clients asked how old I was, I never answered the question. I would just say: Does it matter?
Obviously, now that I have actually aged, I did not have to dress up to look older. Although people still mistake me to be in my 20s sometimes, they would realise that I was more mature than that once I spoke to them. I now realised it was not the age, but what I said and how I carried myself that mattered.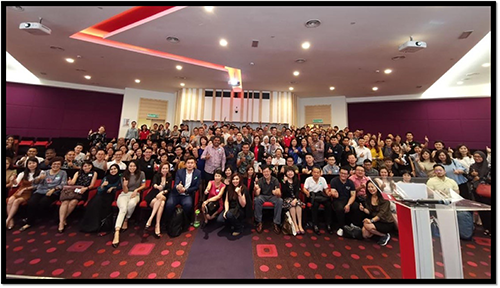 Cindy (center) helmed a talk in Kuala Lumpur for over 200 professionals in 2019 
What inspired you to give back to the Imagine Better Companies project?
I hoped that SMU could provide students with a platform for more ideas to be supported and shared. I hope future students do not have to go through what I experienced in the early stages of my career – not knowing who to approach to share ideas, winding up in the wrong place, and having my ideas rejected.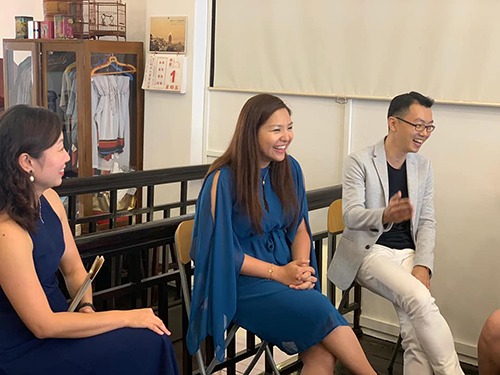 Cindy (center) at a recent speaking engagement with a client from Relationship Studio
Do you have any words of advice for fellow alumni who wish to give back to their alma mater?
Give within your means. There is no need to be bothered about who is giving more or who is giving less, or how much you have to give, as long as we are doing our part to make an impact and touch lives.
If you are an SMU alumnus and entrepreneur, learn about the SMU Alumni Community Fund x Imagine Better Companies giving campaign to find out more about how you can share your story and make a meaningful impact!
This article is featured in SMU Office of Alumni Relations on 16 October 2019.